Ciao Bella!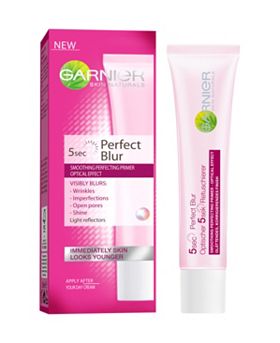 So i guess you've all heard about the new primer from Garnier. It's a new after moisture primer, which takes

5 seconds to apply and improves the look of your skin immediately. It can

blur all imperfections from pores to wrinkles in just 5 seconds. The primer

has lightweight velvety texture, which leaves skin feeling incredibly smooth, soft, matte and feels comfortable to wear all day long.
Garnier's 5 Second Perfect Blur Primer was an anticipated release, as there was a waiting list on the Boots website (its exclusive to Boots until 1st June ). Its reasonably priced £12.99 for 30ml. I must stress that the primer is not makeup; you apply it after your favourite day cream. Its great as you can wear it with or without make up ( after your day cream & if you wear makeup before your foundation). I'm going to trial this for a week & report the good (or bad) news back to you beauties.
Reasons to try it:
1)Optical illusion effect instantly blurs away signs of imperfections & ageing
2) Takes 5 seconds to apply! - good for beauties on the go
3) Visibility improved looked skin in just 5 seconds:
Visibly blurs the appearance of shine.
Visibly blurs the appearance of fine lines
Visibly blurs the appearance of wrinkles
Visibly blurs the appearance of pore
What your favourite primer?
Vogue xx
This post was not sponsored.